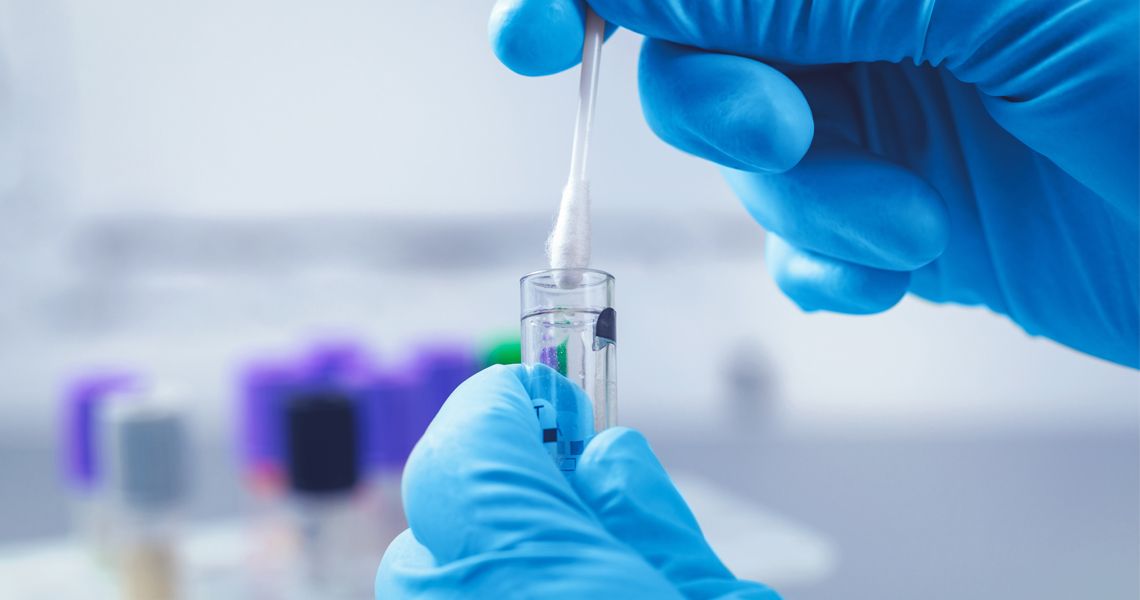 There are dozens of questions surrounding COVID-19, and researchers at the George Washington University (GW) are intent on discovering the answers to them. Now, a coronavirus specimen bank will give investigators the tools they need to better understand this devastating virus.
The specimen bank will house samples from COVID-19 positive patients at four different times during their infection from day one to 11, according to Aileen Chang, MD, MSPH, assistant professor of medicine at the GW School of Medicine and Health Sciences (SMHS), the principal investigator for the collection. Those patients will also provide samples for 10 weeks, 6 months, and a year after recovery.
Samples will include nasal swabs and blood and urine samples taken while the patients are still infected. Once they have recovered, samples will also come from penile, vaginal, and anal swabs, Chang explained.
In addition to Chang, Adrienne Poon, MD, MPH, assistant professor of medicine at SMHS, recently joined as program director for the new specimen bank.
Researchers at both SMHS and the Milken Institute School of Public Health at GW (Milken SPH) will use the specimens for myriad research projects. 
Chang said research will include how many days or months the virus sheds, how long it takes to produce neutralizing antibodies to the virus, links between the virus and cardiovascular disease and neurologic disease, as well as T-cell and B-cell responses, which play a role in vaccine development
"There's also a host of people doing diagnostic validation, trying to come up with better diagnostic tests," she added. "There are so many different projects that are underway."
Currently, there's only enough funding for the bank to contain specimens from 50 patients, but Chang said they are actively seeking additional supplies and funding to grow the collection. The specimen bank is being housed in the GW Science and Engineering Hall and samples are being processed in the lab of Christopher Mores, ScD, professor in the Department of Global Health at Milken SPH.
The specimen bank is an easy and efficient way for researchers to obtain the samples they need, Chang said.
"There's a lot of regulatory [work] that goes into it, institutional review board approval and institutional biosafety committee approval, so it involves a lot of regulatory steps," she noted. "We wanted to create this specimen bank so we could streamline that regulatory process so each individual researcher doesn't have to try to handle all of these regulatory elements on their own."
An executive committee also is being set up to review concept papers from researchers interested in obtaining samples from the bank because of the limited capacity, Chang added.
When the need for this project arose, Chang said, she realized her experience made her uniquely suited to be the lead on the project; she has been working out regulatory processes for studying viruses, like dengue and chikungunya, for more than a decade. Chang also recently conducted research on Zika, another virus that took the world by surprise.
"We have so many questions and we have so many talented researchers at GW who have expertise that can be applied to solve problems regarding coronavirus that desperately need to be solved," she said. "My research led me to become an expert in how to do these regulatory steps, which made me well suited to set up this bank. I see it as doing a service to GW."