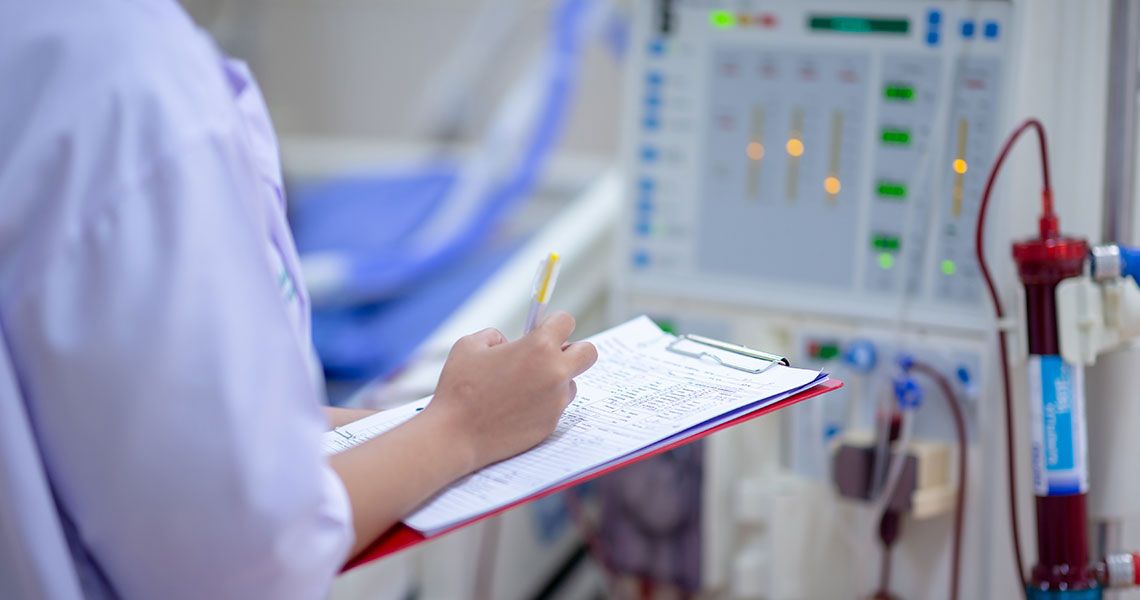 Kidney disease effects about 37 million people around the United States, according to the National Kidney Foundation. Most of these patients require a consistent health care regimen, and all of them are at a higher risk of developing serious illness if they test positive for COVID-19. 
To prevent the spread of COVID-19 and keep safe those patients who are in need of dialysis — which is a process that substitutes the function of kidneys, such as waste removal — clinics have been designated for patients who are under investigation for COVID-19 and for COVID-19 positive patients. 
One such site, Fresenius Kidney Care in Hyattsville, Maryland, is working in collaboration with the Division of Renal Diseases and Hypertension at George Washington University (GW) to provide care to patients. 
Ehsan Nobakht, MD, director of the center and assistant professor of medicine at the GW School of Medicine and Health Sciences, is caring for these patients, along with Ashte Collins, MD, assistant professor of medicine at SMHS. He said the site is equipped with personal protective equipment and staff are trained to care for dialysis patients safely. 
Faculty members, including  in the Division of Renal Diseases and Hypertension have developed policies and procedures for caring for high-risk chronic kidney disease patients, created screening and isolation procedures to prevent spread among dialysis patients, and made pre-emptive plans for kidney transplant patient care. 
Nobakht explained that the majority of patients receiving kidney dialysis do so under the direction of their physician, with the process being performed at dialysis centers by specially trained nurses and technicians. 
"Most patients come to the dialysis units three times weekly and receive hemodialysis, or blood dialysis using an artificial filter, for four hours," he said. "Some patients are trained to perform dialysis at home. [Those] options include hemodialysis and peritoneal dialysis or 'belly dialysis' using inside lining of the patient's own belly functioning as a natural filter." 
Home dialysis patients are seen once a month and sooner, if required, he added.
Patients who are suffering from chronic kidney disease typically have weaker immune systems making it more difficult to fight the COVID-19 virus. African Americans, Nobakht noted, face a dual threat. Kidney disease is common among African Americans, and they also are at a higher risk of complication with COVID-19 infection.
Keeping up with dialysis treatments is critical, and kidney transplant recipients should continue the immunosuppressive medications, he said. That's why, Nobakht added, it's important for these patients to follow the general health recommendations, including social distancing, frequent hand washing, and covering their faces when out in public. 
Nobakht said it is a privilege to help patients, despite the risks involved when it comes to helping those who are COVID-19 positive. 
He also said that it is inspiring to witness the hard work of his colleagues. "Our fellows are at the forefront, providing consult and direct care of patients with COVID-19 in the hospital," he said. "Many of them are on self-quarantine from their own family and yet they come to work with a smile and courage."