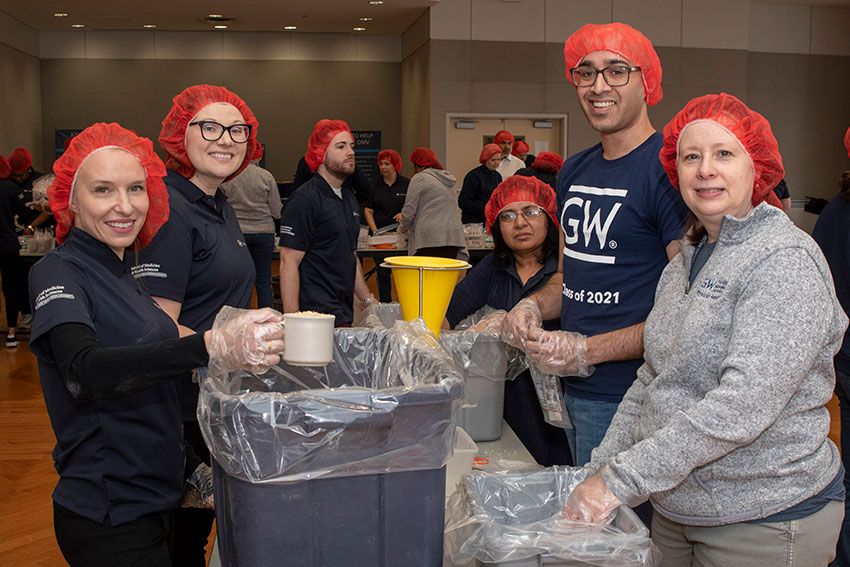 Seventy-five health sciences faculty, staff, and students at the George Washington University (GW) gathered in the Marvin Center Continental Ballroom on Feb. 19 to make an impact on hunger. Health Sciences is an academic division within the GW School of Medicine and Health Sciences (SMHS), which spans 30 different disciplines in health care and translational research. The service event coincided with the launch of the division's new strategic plan.
"We came together to assemble meal packages for Rise Against Hunger in order to provide food for those without access to sufficient nutrition," explained Ellen Costello, PhD, PT, director of the Physical Therapy Program in the Department of Health, Human Function, and Rehabilitation Sciences at SMHS. Food insecurity and hunger are global and local problems, and these issues were identified as shared priorities across health sciences teams as the strategic plan was being developed.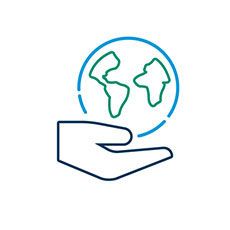 Rise Against Hunger is an international organization driven by the vision of a world without hunger. Their mission is to end hunger by the year 2030, providing food and life-changing aid to the world's most vulnerable populations and creating a global commitment to mobilize the necessary resources. The meals packaged by this group will support school-aged children in high poverty areas. In addition to meals, the organization provides training and resources to foster sustainable farming programs around the globe.
"Food is an essential component of health and provides the fuel that powers us in our daily lives," said Karen Wright, PhD, PA-C, assistant dean for student life and academic support for health sciences and director of the Physician Assistant Program at SMHS. "A poor diet has negative implications that can lead to cognitive dysfunction and illness. This collective effort is one small way we can reduce hunger and its harmful manifestations. "
Volunteers were challenged to package 10,000 meals, but the team exceeded expectations, packing 15,000 meals. The kits included vitamin packets containing 18 essential vitamins and minerals, soy powder as a protein source, dehydrated vegetables, and rice.
"I was excited that there was something on campus that we could come to in the middle of the day and give back to the community," said Morgan Vallimont, a first-year PT student.
The event was designed around one of the four focus areas of the Health Sciences Strategic Plan, which is "living our social mission." Identifying and providing impactful service opportunities for students, faculty, and staff are steps being taken to bring education to life for students, foster leadership, strengthen teamwork, and give back to the community.
"Today was all about living our social mission. While faculty, staff, and students worked hand-in-hand to prepare meals, we also learned about how food insecurity impacts health and the importance of sustainability for hunger relief programs," remarked Reamer Bushardt, PharmD, PA-C, DFAAPA, senior associate dean for health sciences at SMHS. "I hope this event will serve as a reaffirmation of why most of us chose careers in health care: to serve others and improve health. Our teams will continue to grow through volunteerism at local food banks, providing nutrition education at community events, and raising awareness about hunger and food insecurity."