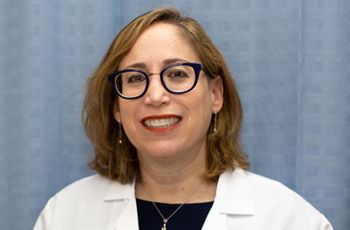 Pulmonary hypertension is a life-threatening condition caused by high blood pressure in the arteries in the lungs and can result in heart failure. A person can get high pressure in the lungs in many different ways, including from lung disease, heart disease, thromboembolic disease, and more.
To help Washington, D.C., area residents who are fighting this disease, the George Washington University (GW) recruited Mardi Gomberg-Maitland, MD, to be the director of the newly established comprehensive pulmonary hypertension program. Working with colleague Jalil Ahari, MD, assistant professor of medicine at the GW School of Medicine and Health Sciences, Gomberg-Maitland will bring her many years of expertise in the pulmonary hypertension field to GW.
Q: What is pulmonary hypertension?
Gomberg-Maitland: Pulmonary hypertension is by definition high blood pressure in the lungs. You can get high pressure in the lungs from multiple etiologies, anything that affects the lungs is going to cause the lung's blood vessels to work harder and the pressure to rise. When the pulmonary arteries are affected as a primary or secondary condition, the result is overgrowth of muscle, inflammation, and inflammatory cells, and a narrowing of the blood vessels. … We call that pulmonary arterial hypertension.
There are a lot of comorbid conditions that lead to pulmonary vascular changes, and connective tissue disease is one of the most common. There are also high-flow states, such as with congenital heart disease. When the lung's blood vessels come under stress, they thicken to try to increase their pressure, but unlike systemic arteries, they cannot handle it, and they become clogged. It's like a plumbing circuit. The system backs up and, because the lungs are in between the two sides of the heart, it's like your sink getting clogged. Then it's going to overflow backward and the right side of your heart enlarges and the person has fluid buildup. In sum, pulmonary hypertension can be from an idiopathic or hereditary process associated with other myriad conditions.
Q: How common is the condition?
Gomberg-Maitland: It depends on the type, on what the etiology is. The most common etiology comes from the heart. One way to look at it is that heart failure is very common, so there's going to be a higher percentage of folks that get heart failure, especially as people are living longer. I think it's estimated that about 5 million people have high blood pressure in the lungs from heart failure. But it's one of those things where most of our processes for defining disease are not always well recorded.
Q: How is it diagnosed?
Gomberg-Maitland: The first part of diagnosis is medical history and physical, including patients who present with exertional shortness of breath. Usually if the patient has exertional shortness of breath, it means the pressure is high enough it's causing stress on the heart. We don't often see patients when just the pressure's high as the heart and lungs can compensate up until a point. The best screening test is an echocardiogram. This allows the physician to look for any of the congenital issues in addition to evaluating the left side and right side of the heart, and valvular conditions.
Because there are so many different ways you can get it, we have to do a full diagnostic evaluation with CAT scans to make sure there's no lung disease, and we have to do a lung ventilation/perfusion scan to make sure there are no pulmonary blood clots. We also have h a list of  blood testing to make sure you don't have HIV, which is associated with the condition, and screening test for connective tissue disease to name a couple.
Q: What are your goals for the program?
Gomberg-Maitland: About five years back, when I was at the University of Chicago, I helped publish, with Michigan University and Baylor University, a study where we looked at patients at the three pulmonary hypertension centers to see what their presumed diagnosis was, what the final diagnosis was, and how much of the diagnostic workup had been done prior coming to us.  We also evaluated if medications were prescribed appropriately. We discovered that half the time the diagnosis was wrong and half the time we were giving medications that aren't indicated, and it showed that if you're not doing the full diagnostic workup and you're not trained to look and be precise, you're going to make mistakes. So the push within the community has been to make centers of excellence, and that's one of the goals we're trying to hit here at GW, to get that status here.
A lot of our patients at GW previously had to go elsewhere because there was no program, so we're excited that we can now start seeing these patients and start helping them.
I'm working with Jalil Ahari, and the two of us will have a multidisciplinary program. He has been seeing patients on a smaller scale, and now we're going to expand that. We will also include our rheumatologists because they see a lot of the disease as well. We want to really be able to give patients not just standard of care, but the opportunity to participate in novel drug trials. One of my main focuses has always been on drug development in the field.
Q: Why did you choose to come to GW? What does it mean to work at an academic medical center?
Gomberg-Maitland: GW has a long history within cardiology and I knew there was a need within the D.C. area. My background is in strong academics… so for me academics was the key in the decision. Also, for a year I had not been in a conventional academic setting and I missed teaching the residents and the fellows and medical students, so for me the academic side is a major draw.
Q: How did you get into this field?
Gomberg-Maitland: When I was in resident training, I really admired my mentors in the medical intensive care unit, as well as my cardiology attendings both in the ICU and on the floor, and I had to make a decision between the two. I chose cardiology because at the time from the clinical research perspective, clinical trials specifically, there was more to offer in cardiology and … I preferred the cardiology aspect of the everyday outpatient management.
But in my fellowship at Mount Sinai I was exposed to my chief, Valentin Fuster, whose initial work was in pulmonary vascular disease and a formal pulmonary vascular disease program within cardiology, and it all came together. Then when I moved to Chicago I worked with the 'grandfather' of pulmonary hypertension, Stuart Rich, MD, and he really sold it as a mix of everything, heart and lungs, and that you never know what's going to walk through the door. It was a great time to come into the field because it was early on in the drug development and it's a small niche, rather than doing big, interventional, heart failure clinical trials. It allowed me to focus my clinical epidemiology training and trial design in a field at a time when it was growing in interest and in understanding of the disease to find new targets to treat these patients.