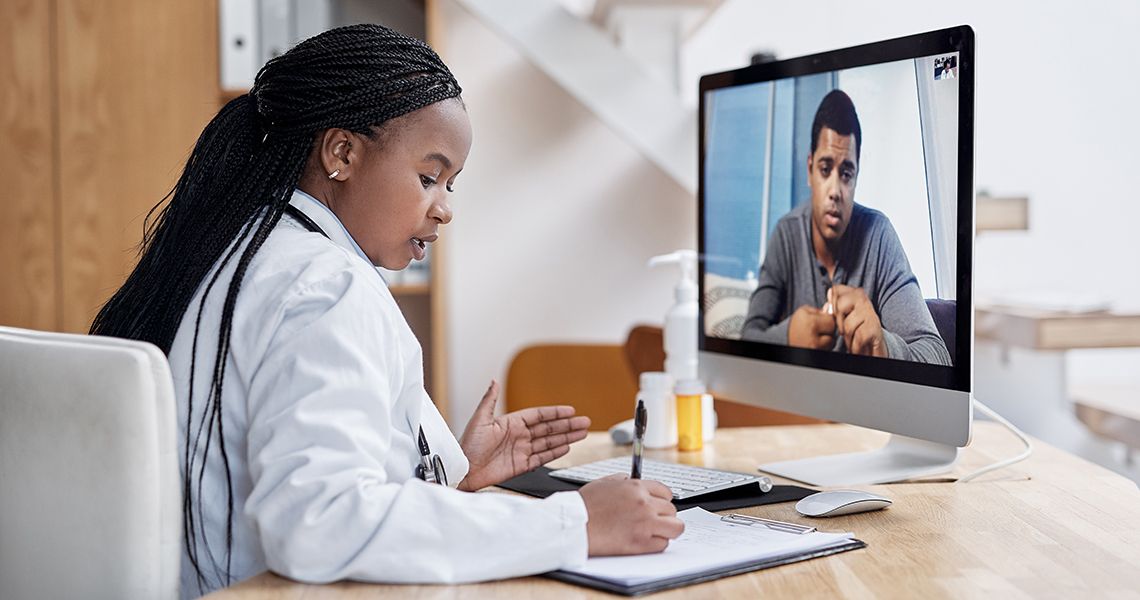 WASHINGTON (October 18, 2023) –The George Washington University (GW) School of Medicine and Health Sciences (SMHS), in collaboration with Pfizer Global Medical Grants, announced that four institutions will be awarded grants to implement GW's Teledermatology clinic model in underserved areas across the United States. Targeting those who lack access to quality-based care for inflammatory dermatologic conditions, including Atopic Dermatitis (AD) and others, the grants will reach communities in Miami-Dade County, Florida; Los Angeles County, California; rural communities in Oregon; and downtown Philadelphia, Pennsylvania. 
"While the COVID-19 pandemic further exacerbated access limitations in dermatologic care, more importantly it brought the pervasive disparities, particularly in rural and low-income areas, to the forefront," said Adam Friedman, MD, chair of the Department of Dermatology and residency program director at GW SMHS. "In response, in a collaborative effort at the GW School of Medicine, a Teledermatology Free Clinic was implemented for residents of Ward 7 and Ward 8 of Washington, D.C. Partnering with the Rodham Institute and the Temple of Praise Church, we set up a free clinic at the church through which patients were integrated into the GW medical records system, provided instruction on telemedicine best practices, exposed to comprehensive education about AD and underwent a free telemedicine visit with a member of the Department of Dermatology."
A post-engagement survey showed that the majority participants did not have a dermatologist (70%), but after participating in the program, nearly all (94%) were extremely satisfied and reported that that the clinic significantly changed their AD management (90%). Given these results, GW and Pfizer recognized an opportunity to expand the program's reach.
Friedman added, "There is a need for additional strategies to help at-risk communities cross the technology desert to obtain quality health care. Access to telemedicine is the starting line because it eliminates traditional barriers to care such as transportation needs, distance from specialty providers, and approved time off from work or even child or elder care responsibilities. We offer our sincere congratulations and appreciation to the four teams that will expand our model to other underserved communities in the United States." 
Funded by Pfizer Global Medical Grants, the recipients of the "Quality Improvement Initiative: Bridging the Inflammatory Dermatosis Care Divide with Teledermatology Grant Program," are:   
•    Targeting the Overtown Subdivision in Miami-Dade County, Florida, led by Scott Elman, MD, director of the Connective Tissue Disease Clinic, assistant professor of clinical dermatology, medical director of outpatient dermatology, Miller School of Medicine, University of Miami. Elman's team will focus on the historic district of Overtown because it is one of the two subdivisions (of 12) reported in the 2019 Miami-Dade Community Assessment that has the highest percentages of both adults and children living below federal poverty line. Approximately 29 percent of the population is uninsured, almost a 10 percent increase from the Miami-Dade County average. The team will create a free clinic for Overtown with Lotus House, a unique resource center and residential facility serving homeless women and infants. The clinic will also prioritize culturally competent interventions in English and Spanish to address disparities in inflammatory skin disease across diverse demographics. 
•    University of Southern California (USC) Dermmunity Telemedicine Initiative (DTI), led by Nada Elbuluk, MD, MSc, associate professor of clinical dermatology, Keck School of Medicine, USC Department of Dermatology, founder and director of the USC Skin of Color & Pigmentary Disorders Program, founder and director of the USC Skin of Color & Pigmentary Research Fellowship, founder and director of the Dermatology Diversity and Inclusion Program,  anddirector of Curriculum Equity, Keck School of Medicine. Elbuluk is the founder and director of the Diversity and Inclusion Program since 2018 and in this role created two community service programs, Derm RISES (targeting inner city students) and Dermmunity, a community-based program focused on bringing dermatology education into underserved communities through partnership with over half a dozen organizations across Los Angeles. The DTI will expand upon the work of Dermmunity by providing teledermatology and further educating communities of color on dermatologic conditions and how to utilize telehealth for their medical care. 
•    Teledermatology Training and Expansion: A Dual Approach for Patients and Providers in Rural Oregon, led by Alex Ortega-Loayza, MD, MCR, associate professor of dermatology, School of Medicine at the Oregon Health & Science University (OHSU). Given that roughly one third of the Oregon population lives in rural areas, Ortega-Loayza's team will partner with the Oregon Rural Practice-based Research Network (ORPRN) to implement their program at five clinics that serve different portions of these communities across Oregon. Providers at these clinics will undergo a training module in teledermatology and then recruit patients who will join a teledermatology visit with Ortega Loayza for a clinical assessment, differential diagnosis, and treatment plan that will be shared with the patient's local health care provider. A 2018 needs assessment performed by the OHSU Department of Dermatology and ORPRN "identified dermatology as one of the top three needs for education requested by providers in rural medical practices throughout Oregon."
•    Teledermatology Implementation and Prospective Analysis for a Philadelphia-based Federally-Qualified Health Center, led by Jules Lipoff, MD, a board-certified dermatologist in Philadelphia and clinical associate professor (adjunct) in the Lewis Katz School of Medicine at Temple University, Department of Dermatology. In partnership with Philadelphia FIGHT, a federally qualified health center, Lipoff's team will pilot and establish a telemedicine dermatology clinic on site to specifically target FIGHT's diverse patient population, which includes patients living with HIV, people who identify as LGBTQ+, and those who identify as trans or with a gender not matching their sex assigned at birth. Most of these patients (81%) do not have private insurance or insurance at all and more than half (55%) live below the federal poverty line with eight percent experiencing homelessness. FIGHT is in downtown Philadelphia where many patients lack access to high-speed internet, and the teledermatology clinic will improve no-show rates by allowing patients direct access to telemedicine appointments from within their trusted primary care facility.
All four awarded projects will complete post-assessment surveys to determine patient satisfaction and uptake, and measure patient-reported outcomes. They will also complete quality assessment initiatives to monitor recruitment and enrollment rates, number of surveys completed, number of televisits scheduled and completed, and number of in-person visits scheduled and completed, which will inform how to expand this initiative even further in the future.