Akman Innovation Fund awards "venture capital" grants to inaugural cohort.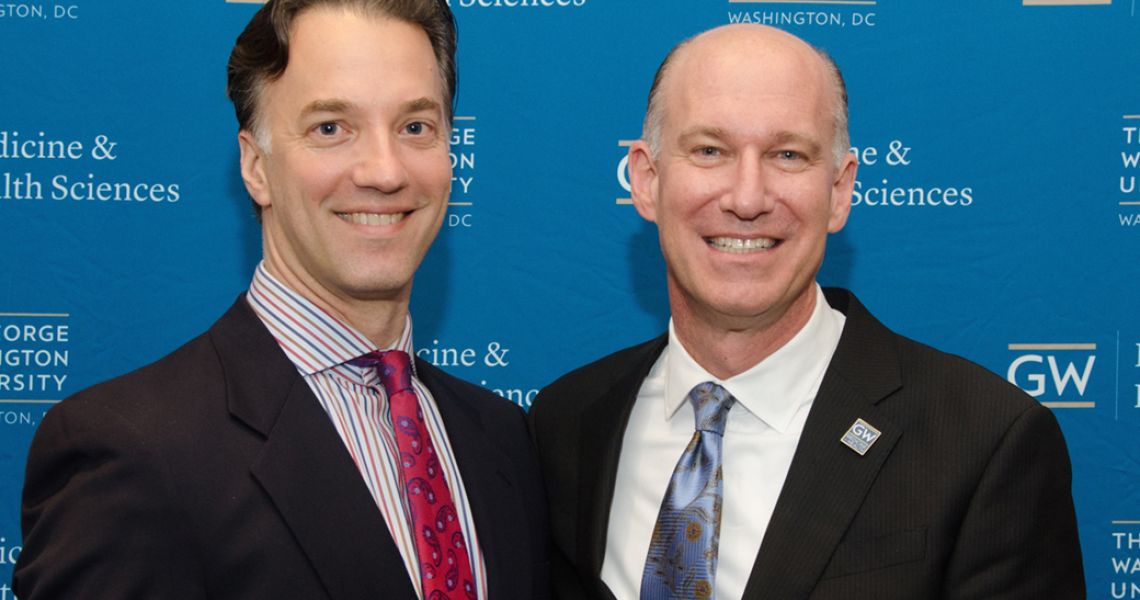 During his decades as a School of Medicine and Health Sciences (SMHS) faculty member, including nine years as dean, Jeffrey S. Akman, M.D. '81, RESD '85, was impressed by the caliber of student accomplishments at the GW New Venture Competition and the MD Program clinical public health summits.  
"Our students generate very exciting ideas and innovative projects, many of which impress me as having the potential to be developed into something that might be a valuable contribution to medicine and health care," Akman said. "I thought, why not incentivize innovative thinking and bring together our learners with our great faculty?" 
Medical resident Shaitalya Sri Vellanki and Wyn Dobbs, a third-year medical student, recently each received one-year seed grants of $10,000 to support their "exceptional" research projects thanks to the Akman Innovation Fund's existing endowment. Students are mentored by a SMHS faculty member, a key component of the award.
Akman worked with SMHS Dean Barbara L. Bass to establish the themes for the fund's first grants, settling upon COVID-19 and health disparities, which are two of the world's most pressing health-related issues. Akman reviewed the grant proposals and consulted with Robert H. Miller, vice dean for research and academic affairs, before selecting the two inaugural Akman Innovation Fund recipients and their faculty mentors.    
Akman noted that he is "particularly pleased" to fund one medical student/faculty project and one resident/faculty project.
"Innovation is a crucial part of the mission and reputation of any great academic medical school," Akman said. "A second essential component of this fund has to do with the value of mentorship, collaboration and inclusion, which is crucial to the success of any academic medical center." 
And he should know, with a four-decade GW experience unlike most others. 
For more than 40 years, Akman has been a devoted champion of education, innovation, collaboration and inclusion at GW and SMHS. He first came to GW as a medical student, then stayed for his medical residency. He was appointed to a series of faculty and clinical positions before he was named dean of SMHS, as well as the vice president of health affairs and the Bloedorn Professor of Administrative Medicine.  
During that time, Akman established an office and deanship in diversity and Inclusion, opened the Center for Faculty Excellence and led a highly successful strategic plan transforming educational programs, expanding research, innovation and clinical services, including a new cancer center.
"Dr. Akman has made innovation, mentorship and collaboration the centerpiece of his distinguished career in patient care, research and leadership. The Akman Innovation Fund is yet another testament to his incredible contributions to medicine and his commitment to the next generation of researchers," GW President Mark S. Wrighton said. "Through their generous bequest, Dr. Akman and his husband, Steven, are accelerating the George Washington University's progress as a world-class research institution by enabling our students, residents and faculty to have an even more positive impact on society."
Currently, Akman serves as the interim chair of the Department of Psychiatry and Behavioral Sciences at GW Medical Faculty Associates (MFA) and is an associate professor in psychiatry and behavioral sciences at SMHS.
Commitment to SMHS clearly goes beyond Akman's decades of academic, clinical and administrative experience to include philanthropy, said Donna Arbide, vice president of development and alumni relations. In addition to the Akman Innovation Fund, Akman and Steven Mazzola manage the Bryan J. Akman Scholarship Fund created in 2013 to honor Akman's late twin brother. The endowed scholarship helps students meet the costs of medical school. 
"Dr. Akman is a pacesetter in medical education," Arbide said. "His generosity continues his legacy of real-world impact for both students and faculty. The Akman Innovation Fund will be the spark that ignites ideas from GW medical school students into exciting projects with the potential to change the field of medicine and help care for patients around the world."
Although Akman and Mazzola's generous commitment is part of their estate plan, Akman's vision to foster ideas, support mentorship and promote clinical innovation within SMHS was enabled by substantial philanthropic support from alumni, faculty, staff, family and friends honoring Akman's decades of service when he stepped down as dean and vice president of health affairs in 2020.
One inaugural fund recipient, Vellanki, will be mentored by Janani Rangaswami, professor of medicine and director of the GW MFA cardiorenal program. They will explore how to help patients in underserved or impoverished communities gain access to health care and treatment for heart failure and chronic kidney disease. 
Dobbs, the other 2022 recipient, will study the potential relationship between Long COVID and pre-existing asthma with his mentor, Adrienne Poon, assistant professor of medicine, to help uncover the best treatment regimens for those patients. 
"Our inaugural Akman Innovation Fund recipients exemplify the research-driven, patient-centered focus that sets our school apart," said Bass, who is also vice president for health affairs and CEO of the MFA. "The funding and mentorship will provide the right resources to enable them to explore and develop creative solutions for global health problems. I am so grateful to Dr. Akman for his ongoing generosity and amazing contributions to our SMHS missions."
The fund currently provides seed funding for two projects each year, and Akman hopes that number will grow in the coming years.
---
Contributions to the Akman Innovation Fund provide seed grants and pilot funding to launch student, resident and faculty projects in the GW School of Medicine and Health Sciences. Alternatively, please consider opening doors for talented and promising medical students through the Bryan J. Akman Scholarship Fund.