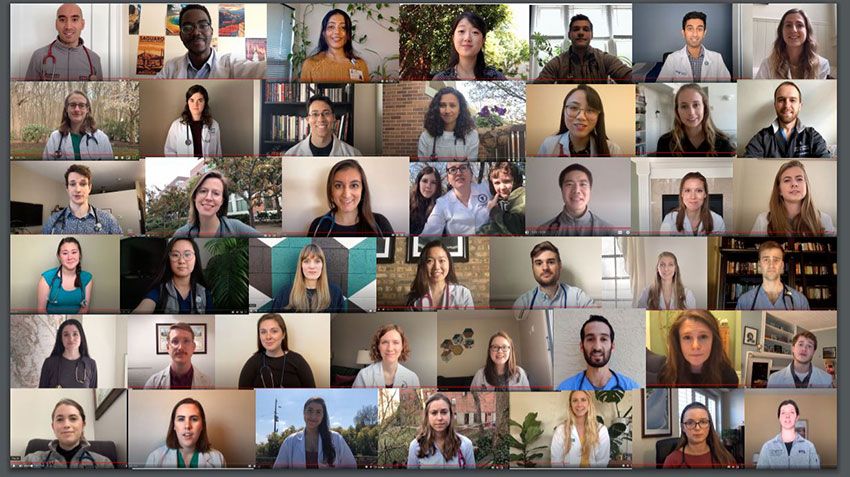 In honor of the 50th anniversary of Earth Day, medical students across the country are speaking out about the impact climate change has on the health of the world, about the power of community in tackling these pressing challenges, and about how COVID-19 is shining a light on environmental health effects.
Medical Students for a Sustainable Future, a network of medical students who recognize climate change as an urgent threat to health and social justice, created a video to drive these messages home.
The organization is the brain child of Harleen Marwah, third-year MD student at the George Washington University School of Medicine and Health Sciences (SMHS), and boasts more than 130 members from 25 states and 39 medical schools.
Through the video, Marwah said, medical students are urging viewers "to vote for climate champions and to vote considering health, hope, and humanity this fall."
As Earth Day lands amid the COVID-19 pandemic, she said, there is evidence of a link between air pollution and mortality rates from the virus. She added that as the pandemic strains the United States' health systems, it is revealing where policies fall short in protecting not only frontline health workers, but also marginalized communities. 
"Ignoring climate change in our response to this pandemic would exacerbate our risk for future crises," she said.
The idea for Medical Students for a Sustainable Future, or MS4SF, was born from Marwah's work advocating for policies to combat the health consequences of climate change on a global scale. With the help of mentor Amy Collins, MD, leader of the Health Care Without Harm Physician Action Network, Marwah brought her idea for a student action group to like-minded students at institutions across the country.
"The eagerness and enthusiasm of medical students to join the network and get involved reflects a pervasive understanding that climate change is a critical and urgent issue for health care," she said.
Often, medical students are not taught about the impacts environmental issues can have on patients, noted Rose Milando, third-year SMHS MD student, but she added that her classmates and future colleagues can be the ones at the forefront of the fight against climate change.
"We have the tools to be practitioners for a better society and a healthier planet, and we have strong voices as physicians to encourage change and offer solutions," she said. "We just have to be aware of these large global systems at play, be taught to understand their impact on human health, and be given the tools by our institutions to become activists and physicians not only for individuals, but for communities and for the planet."
Samantha Sobelman, third-year SMHS MD student, joined MS4SF because of the inspiring effort she saw Marwah putting into the organization. She said she has seen firsthand the devastating impacts of climate change.
"It has hit close to home for me in California, where devastating wildfires have affected communities that I care so much about," she said. "I worry about what our future will look like, but if we keep sustainability and the climate crisis in mind while creating policies, we can hope to flatten our curve on detrimental climate behaviors and be better prepared to take on the challenges it is already bringing."
Marwah said ways to contribute to a more sustainable future include advocacy, research, waste reduction, and education. She added that students who want to take action against climate change should encourage the inclusion of climate change discussions in their school's curriculum so that the next generation of clinicians is better equipped to understand the impacts of climate on health. 
"While global health experts have referred to climate change as a leading threat to global health, it is also an opportunity to reimagine a healthier and more equitable future," she said. "As a medical student, I feel the urgency to address this issue. As a future physician, I recognize the power of my voice and plan to use it to advocate for the needs of the most vulnerable."