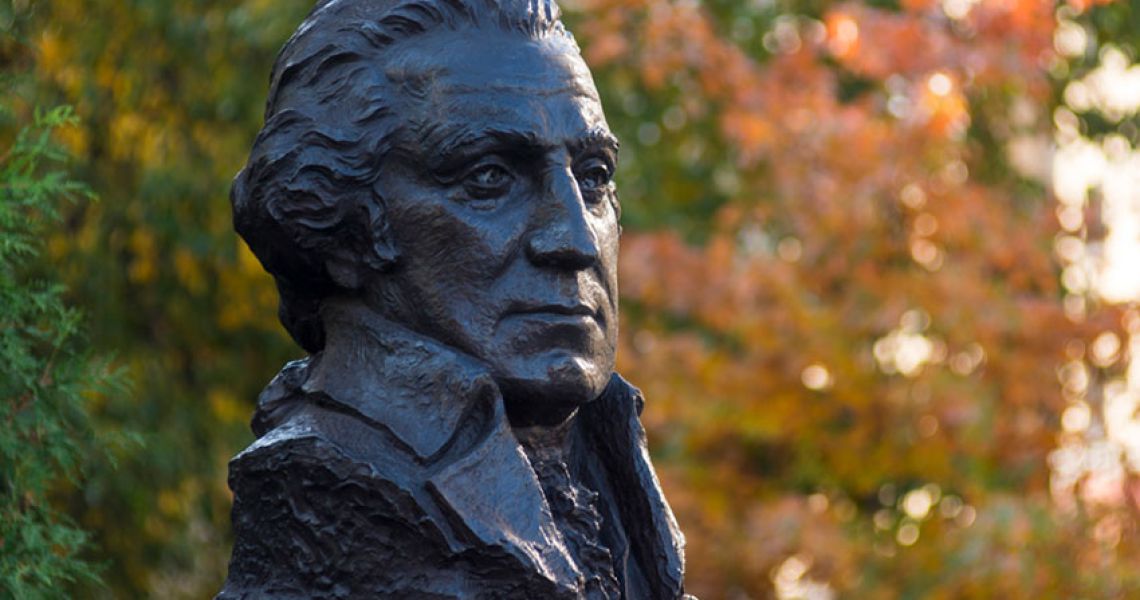 In September, about 30 new members of the George Washington University (GW) School of Medicine and Health Sciences (SMHS) faculty met with Jeffery S. Akman, MD '81, RESD '85, vice president for health affairs, Walter A. Bloedorn Professor of Administrative Medicine, and dean of SMHS, for breakfast, networking, and a chance to learn about all SMHS has to offer.
The meeting marked the first of what will become a regular series of new faculty breakfasts; events spearheaded by Akman to offer new faculty members the chance to meet him and many of the other leaders at SMHS in an informal setting.
"Our faculty are amazing, and we want to ensure they are engaged from the start. We also want to make sure they learn about all of the tools and resources available to them here at SMHS," he said.
Raymond Lucas, MD, associate dean for faculty affairs and professional development and associate professor of emergency medicine at SMHS, said the idea grew out of discussions around new faculty orientation. The way orientation occurs differs for new faculty whether they are in basic science departments, health sciences departments, at the GW Medical Faculty Associates, or at Children's National Medical Center. Akman wanted a mechanism to ensure all new faculty hear the same message from SMHS and to get to know new faculty in a more relaxed setting.
The breakfasts will be held quarterly, added Lucas, with around 30 attending each one.
At the inaugural breakfast, attendees heard from key SMHS leaders, including Richard Simons, MD, senior associate dean for MD programs and professor of medicine at SMHS; Ellen Goldman, EdD '05, assistant dean for faculty and curricular development in medical education and professor of clinical research and leadership at SMHS; Alison Hall, PhD, associate dean for research workforce development; Catherine Golden, EdD '14, MPA, associate dean for academic planning and assessment and adjunct assistant professor of clinical research and leadership; and Anne Linton, director of the Himmelfarb Health Sciences Library and adjunct associate professor of medicine at SMHS.
"It was very casual and interactive," Lucas added. "The message we tried to give them was that we … really want the faculty to succeed and we have resources here to help them."
That message was well received by Maranda Ward, MPH, EdD '17, visiting assistant professor of clinical research and leadership, who started in her position in July.
"It was definitely helpful to learn about all of the wealth of resources and support made available to all faculty," she said. "Learning about the faculty database was especially helpful; I'm always looking for ways to collaborate across disciplines."
She added that she enjoyed meeting Akman, and that she appreciated how he was well-versed and familiar with the programs across the medical school and health sciences. "He really pulled a thread across them. [It] allowed me to see that he does see us as one school … that we are 'One GW SMHS.' "
Michael G. Knight, MD, MSHP, assistant professor of medicine at SMHS, who has been with the school since August, enjoyed hearing about the new initiatives coming down the pipe for faculty, learning about the available resources, and meeting some of the other new faculty members.
"I learned more about GW's commitment to faculty development, and, outside of our clinical practice, knowing what it means to be a faculty member at GW, what benefits come along with that, and how we can better give back to the school," he said.