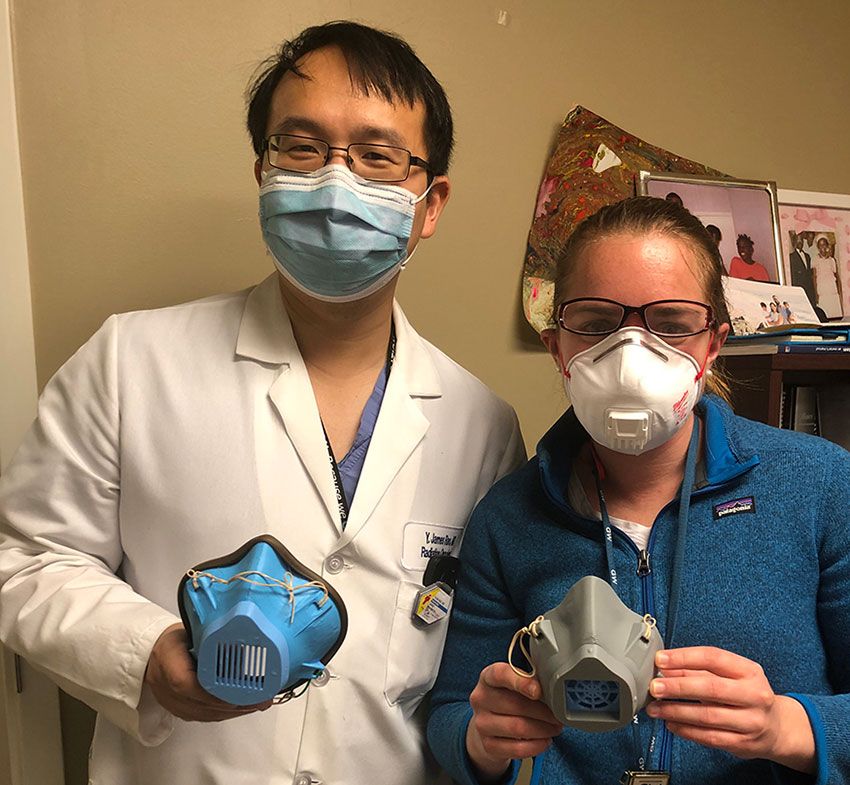 When planning their wedding, Yuan James Rao, MD, director of brachytherapy at the George Washington University (GW) Cancer Center and assistant professor of radiology at the GW School of Medicine and Health Sciences (SMHS), and Destie Provenzano, a PhD candidate in the GW Department of Biomedical Engineering, had no idea the day would land amid a global health crisis.
Their reception, held in mid-March at Sequoia Restaurant on the Georgetown Waterfront, became a small affair, only close friends, family, and some coworkers were on hand to celebrate the pair's nuptials. Canceled meals were donated to a homeless shelter, and they were flooded with apologetic emails and texts from family and friends who could not make it to the celebration.
In addition to altering their wedding day, the virus led them to cancel their honeymoon, which originally was going to include a relaxing cruise. When COVID-19 stopped that plan in its tracks, Rao and Provenzano were determined to make the most of their time and do what they could to help others. 
Both have family, friends, and colleagues working in the health care space; Provenzano's parents and two sisters are physicians, while Rao's father is a physician and his mother is a nurse.  
"We have been very concerned that our family and other health care providers will be impacted by COVID-19, and we wanted to spend the time we had off work to do what we could to help," Rao said.
Rao noted he has been following COVID-19 since it first appeared in Wuhan, China, and after the virus spread to the United States, he realized that GW's radiation oncology unit did not have policies in place to help keep patients safe from the virus. 
"Radiation therapy typically requires several weeks of treatment, so special policies needed to be put in place to protect our patients and staff," he said. "Destie and I wrote up these policies with Dr. Sharad Goyal [director of the Division of Radiation Oncology at GW], and they were implemented within a day."
The policies were developed in conjunction with Washington University in St. Louis and the University of Virginia, and have been published online to help other radiation oncology departments in their policymaking. 
In addition, Provenzano and Rao quickly saw the impact limited personal protective equipment would have on the local health care workforce as the case numbers in the Washington, D.C., metro area grew, as well as in hard hit places such as New York. 
"Heavy industry is producing more, but help is likely months away," Rao said. 
They knew equipment would be needed now, so the couple joined with Murray Loew, PhD, chair of the GW Department of Biomedical Engineering, and Jeffrey Berger, MD, MBA, chair of the Department of Anesthesiology and Critical Care Medicine at SMHS, to create 3D printed respirators.
"These respirators still need a filter, and we are relying on MERV 13 and MERV 16 filters from HVAC units," Rao explained. "We have tested some preliminary designs and were even able to get one of the designs to pass a Bitrix fit test, which is a mask fitting test for N95 masks that they perform at GW Hospital."
In addition to Rao and Provenzano, the masks were created with the help of PhD student Sofian Obaid, GW graduate teaching assistant Konstantin Mitic, the Corocan School of Arts and Design, the GW Library, GW Hospital Employee Health, and the many physicians who asssisted with preliminary fit-tests of the masks.
Read the manuscript for the design of the 3D printed N95 masks
Rao noted that the mask is not the perfect solution, it's rigid and currently can only be fitted using tape or foam. But he and Provenzano are hard at work trying to find solutions to those problems, such as making several different sizes of masks to fit more people.  
"Right now, using GW's resources, we might be able to produce up to 100 masks per day," Rao said. "The masks are reusable and can be sterilized. This has the potential to make a big impact and protect many people. Doctors from other institutions around the country are interested in our work and are following closely."
However, Rao emphasizes that these masks are only a backup to the preferred N95 mask.
But as cases in the D.C. area and around the country grow, innovative solutions will become all the more important, with experts like Rao and Provenzano leading the way in efforts to help keep patients and health care workers as safe as possible. 
"Both Destie and I feel that we are lucky that we can use our engineering and medical knowledge to help to the best of our ability," Rao said.  "Everybody, including us, is working overtime to prepare as much as we can. The pandemic is a once in a lifetime event, and is a unique chance to use our education and skills to help out. We can't wait for the day when things go back to normal at GW and in D.C., but we recognize that it may be several months away and there is so much work to do to get to that point."