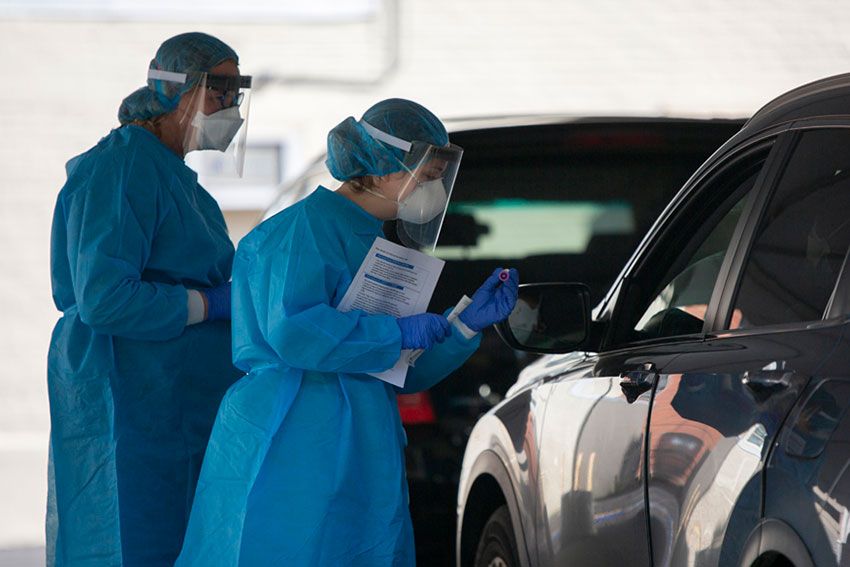 Washington, D.C., Mayor Muriel Bowser recently announced the formation of an advisory committee, ReOpen DC, designed to explore the steps necessary to safely and efficiently restore the city to business as usual, April 23.
The committee, created nearly six weeks after the District of Columbia government closed or significantly curtailed operations across the city, is composed of a steering committee and 11 sector committees charged with developing the framework for a sustainable reopening in areas including education, sports and entertainment, public safety, and recreation, among others. Each of the groups will develop operational guidelines for the respective areas based on four key principles established by the mayor: Health, Opportunity, Prosperity, and Equity.
Lynn R. Goldman, MD, MPH, dean of Milken Institute School of Public Health at the George Washington University (GW), leads working group 2 under the Human Services, Social Services, and Health committee focused on doctors, dentists, maternal care, dialysis facilities, and nonemergency medical care.
"The advisory group is following the Governor's Association guidance and is taking a risk-based approach in determining safety and protocols for the health and well-being of D.C. residents," said Goldman. "Although telemedicine is a wonderful and effective tool for some, not everyone has access and we are especially concerned with helping underserved populations get the health care they need in the district and beyond.
"Moreover, there are many health and human services needs that cannot be met using telemedicine" she added. "We are especially concerned about the treatment of cancer and other chronic disease, monitoring child growth and development, preventing lead poisoning and iron deficiency, preventing maternal mortality and adverse birth outcomes, and addressing dental treatment needs during this prolonged period of staying at home."
Goldman is joined in working group 2 by Jehan "Gigi" El-Bayoumi, MD, RESD '88, professor of medicine at the GW School of Medicine and Health Sciences and founding director of the Rodham Institute; James D'Orta, MD, RESD '85, chair and CEO of Consumer Health Services, Inc., and Mark Smith, vice president of innovation for MedStar Health.
"We will follow the specific national guidelines and parameter recommendations with regard to public health and safety and economic implications," said El-Bayoumi. She hopes to ensure access to health care is prominently featured in any plans for reopening the city. She notes that COVID-19 underlined the impact health disparities have on communities. As April drew to a close, D.C. health officials had identified roughly 4,000 COVID-19 cases and 188 resulting deaths. "In a city where African Americans make up roughly 50 percent of the population," El-Bayoumi said, "more than 62% of the COVID-related deaths are African American."
The committee will help ensure that the recovery invests in the health care delivery system to make it more accessible and make certain that vulnerable communities have access to testing; primary, special, and hospital care; and social supports such as shelter, food, and income replacement services.
ReOpen DC will follow the guidance of Johns Hopkins Bloomberg School of Public Health's Public Health Principles for a Phased Reopening During COVID-19: Guidance for Governors report and include phasing based on critical public health metrics and capacity. It also includes a focus on community-based guidelines, sector-based guidance, and clear communications. The committees will evaluate how crisis standards of care can be safely stepped down, the impact of non-COVID-19 acute procedures at area hospitals, and how to improve local supply distribution systems for medical providers.
In announcing ReOpen DC, Bowser said in a statement, "we have a once-in-a-generation opportunity to not just reopen our city, but to build a more equitable D.C. We will need to be measured, data-driven, and deliberate to ensure a safe and sustainable return."
The Committee has made health equity, ensuring access to health care and social services, a key priority. These inequities were highlighted by the Mayor via a map she released this week showing COVID-19 infection by neighborhood, in which DC Health shows that the 16th Street Heights and Columbia Heights neighborhoods in Wards 4 and 1 have the largest numbers of COVID-19 cases in the city, followed by Chinatown, Brightwood, and Logan Circle/Shaw. According to the Mayor, the impacted neighborhoods in Wards 4 and 5 are known to have significant Latino and African American populations who are still working jobs considered essential.
Goldman noted that the Human Services, Social Services, and Health Committee has been gathering research and input from subject matter experts and stakeholders in order to provide specific recommendations for reopening the city, including phasing, guidelines, potential metrics, and enforcement ideas. She expects that the entire report for all sectors will be released by Mayor Bowser by mid-May.