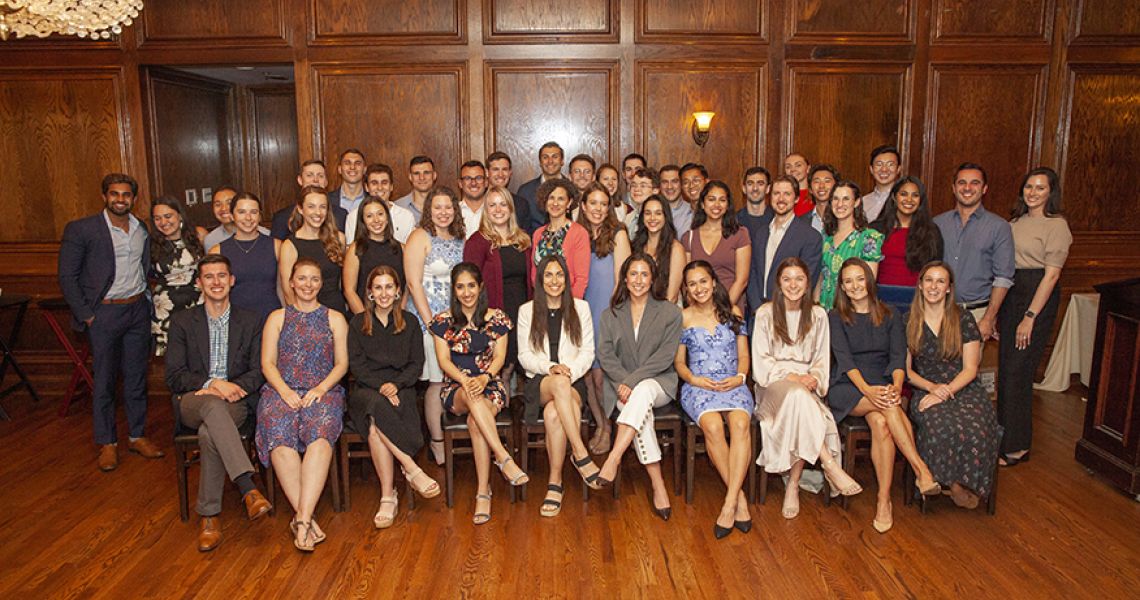 The Alpha Chapter of the Alpha Omega Alpha Medical Honor Society (AΩA) opened the George Washington University School of Medicine and Health Sciences 2023 Commencement Weekend festivities hosting 15th Annual AΩA Visiting Professor Grand Rounds Lecture, May 18.
This year's hybrid event featured Alpha Chapter AΩA Visiting Professor Carolyn Sufrin, MD, PhD, associate professor of OB-GYN at Johns Hopkins University School of Medicine, and director of Advocacy and Research on Reproductive Wellness of Incarcerated People. Sufrin, who also serves as associate professor of health, behavior, and society at Johns Hopkins Bloomberg School of Public Health; associate director of the Johns Hopkins Center for Medical Humanities and Social Medicine, presented the 15th Annual Medicine Grand Rounds lecture titled, "Reproductive Justice and Health Care for Incarcerated People."
An obstetrics gynecologist specializing in complex family planning, Surfrin's work focuses extensively on reproductive health issues affecting incarcerated women from providing clinical care in jail to research, policy and advocacy. Her talk addressed the broader social context of mass incarceration and particularly women's incarceration and health.
"Mass incarceration, no matter what field you are in, is a public health issue," Sufrin told the audience, noting that currently in the United States there are roughly 1.9 million incarcerated people, with women comprising about 10% of that population.
In 1978, she added, "on any given day there were about half a million incarcerated people. Within this this phenomenon of mass incarceration, women have long been the fastest growing population."
Most of these women are young women, younger than 45, that means women of potential childbearing age. In fact, nearly two thirds of incarcerated women are already mothers primary caregivers for their families
"Think about the collateral consequences, the ripple effects on families and communities, when the primary caregiver becomes incarcerated" Surfin said. "These are people who are living at the margins of systems of oppression that characterize their lives through poverty, racism, gender-based violence, unemployment, all kinds of things that have more to do with their pathways of incarceration."
That, she added, leads to much higher rates of chronic medical conditions.
The 68th Annual AΩA Banquet and Induction Ceremony
The previous evening, the GW SMHS Alpha Chapter — is the oldest AΩA chapter in Washington, D.C., founded in 1954 — hosted it's 68th Annual AΩA Banquet and Induction Ceremony. GW medical students are selected to the honor society from a pool representing the top 25 percent of their graduating class, based on their academic performance, extracurricular activities, research endeavors, and commitment to the community.
"AΩA is to medicine as Phi Beta Kappa is to letters and humanities," said Alan Wasserman, MD, Eugene Meyer Professor of Medicine at GW SMHS, and councilor of the GW Alpha Chapter, who along with Angelike Liappis, MD '96, FIDSA, associate professor of medicine at SMHS and chapter secretary, leads the annual event. Wasserman, added that membership in the society "is a distinction that will accompany you for the rest of your careers, and it will be something to live up to for the rest of your lives."
Throughout the academic year, students selected for induction organize tutorial services for underclassmen in academic need, volunteer at community-based medical clinics and collect residency interview experiences for our GW AΩA Guide to the 4th year, an online resource for GW medical students offering advice, contacts, and interview experiences from students from each graduating class.
Liappis formally conferred membership on the AΩA Class of 2023, which included 46 members of the SMHS MD program Class of 2023. In addition to the graduating students, five residents, and four full-time SMHS faculty members were inducted into the Alpha Chapter. Julia Cruz, MD, Emerita Clinical Professor of Medicine, was honored for her years of service to GW and SMHS, receiving the 2023 AΩA Alpha Chapter Voluntary Clinical Faculty Award. 
2023 AΩA Alpha Chapter Resident Inductees
Joseph Devlin, MD, Department of Surgery
Alex Gu, MD, Department of Orthopedic Surgery
Ashleigh Omorogbe, MD, Department of Emergency Medicine
Maggie Pruitt, MD, PhD, Medical Education Chief Resident, Department of Internal Medicine
Sowmya Swamy, DO, Department of Internal Medicine
2023 AΩA Alpha Chapter Faculty Inductees
Amy Caggiula, MD, EdD, MA, Assistant Professor of Emergency Medicine, and Associate Program Director, Emergency Medicine Residency Program
The George Washington University School of Medicine and Health Science
Charelle Carter-Brooks, MD, MSc, Assistant Professor Obstetrics and Gynecology, and of Urology
The George Washington University School of Medicine and Health Sciences
Pamela E. Karasik, MD, Professor of Medicine at GW SMHS, and Chief, Department of Medicine Washington DC Veterans Affairs Medical Center
Aisha Terry, MD, MPH, Associate Professor of Emergency Medicine, and of Health Policy
2023 AΩA Alpha Chapter Voluntary Clinical Faculty Award
Julia Cruz, MD, Emerita Clinical Professor of Medicine
AΩA Class of 2023
Kayla Authelet | Emergency Medicine, Alameda Health System-Highland Hospital, California
Jordan Price Barton | Emergency Medicine, San Antonio Military Medical Center-Army
Lauryn Brown | Radiology, University of Washington Affiliations Hospitals
Morgan Burke | Internal Medicine, University of Southern California
Elizabeth Anne Clark | General Surgery, Carolinas Medical Center
Elisabeth K. Davis | Pediatrics/LAUnCH Community Health, Children's National Hospital
Alexander Dick | Child Neurology, Children's Hospital-Philadelphia
Margaret Duval | Anesthesiology, New York Presbyterian Hospital-Weill Cornell Medical Center
Gabriel Esmailian | General Surgery, Indiana University School of Medicine
Zachary Falk | Internal Medicine, New York Presbyterian Hospital-Weill Cornell Medical Center
Fiona Fimmel | Pediatrics, Cincinnati Children's Hospital Medical Center
Samuel I. Fuller | Orthopaedic Surgery, University at Buffalo School of Medicine
Brian Giang | Anesthesiology, Cedars-Sinai Medical Center
Vrinda Gupta | Internal Medicine, Johns Hopkins Hospital
Subhash Gutti | Interventional Radiology, Rush University Medical Center
Colleen Hamilton | Internal Medicine, Harbor-University California Los Angeles Medical Center
Jane Henriques | Pediatrics, Children's National Hospital
Christina Kallik | Neurology, New York University Grossman School of Medicine
Simran Kaur Kalsi | Psychiatry, Thomas Jefferson University
Emma Keegan | Obstetrics-Gynecology, Pennsylvania Hospital
Sophia Khan | Obstetrics-Gynecology, Saint Joseph Hospital SCL Health, Colorado
Rebecca Kolodner | Obstetrics-Gynecology, University of California San Diego Medical Center
Nicolas Leighton | General Surgery, University of Southern California, California
Anna Mattson | Obstetrics-Gynecology, Kaiser Permanente-Santa Clara
Erika McCormick | Research Fellow – Dermatology, the George Washington University
Matthew McHarg | Ophthalmology, California Pacific Medical Center
Samer Metri | Emergency Medicine, Kaiser Permanente-San Diego
Anthony Amin Milki | Pediatrics, New York Presbyterian Hospital Columbia University Medical Center
Ryan Mortman | Physical Medicine and Rehabilitation, University of Pittsburgh Medical Center-Medical Education
Khashayar Mozaffari | Research Fellow, University of California, Los Angeles
Sophia Newton | Emergency Medicine, University of Cincinnati Medical Center
Justin Ong | Internal Medicine, University of Southern California
Varsha Parthasarthy | Dermatology, Johns Hopkins Hospital
Theodore Quan | Orthopaedic Surgery, the George Washington University
Krithika Rao | Emergency Medicine, University of California Los Angeles Medical Center
Sedona Rosenberg | Ophthalmology, University of Virginia
Rachel Schwartz | Plastic Surgery, Carilion Clinic-Virginia Tech Carilion School of Medicine
Zoe Shancer | Internal Medicine, Duke University Medical Center
Peter William Sweetser | Emergency Medicine, the George Washington University
George Thomas | Orthopaedic Surgery, University of Minnesota Medical School
Julie Thomasian | Ophthalmology, the George Washington University
Christopher Wend | Emergency Medicine, Johns Hopkins Hospital
Elizabeth Wood | Obstetrics-Gynecology, Naval Medical Center San Diego
Tong Q. Yan | Family Medicine, Greater Lawrence Family Health Center
Samuel Yeroushalmi | Dermatology, New York Presbyterian Hospital-Weill Cornell Medical Center
Emily Youner | Otolaryngology, Case Western-University Hospital Cleveland Medical Center