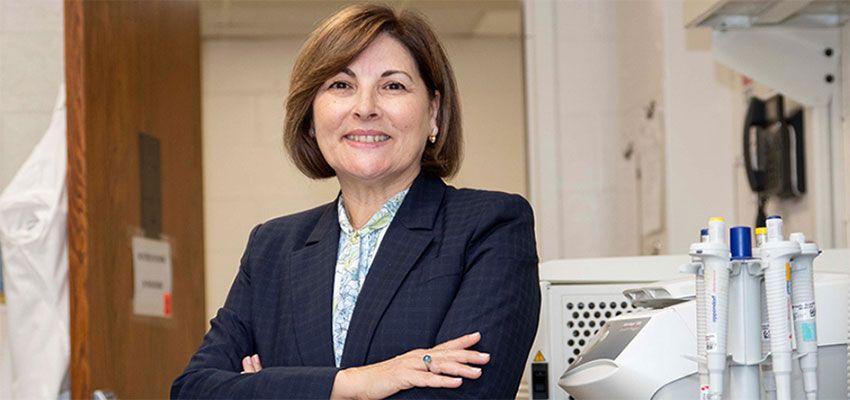 When Antonia Sepulveda, MD, PhD, arrived at the George Washington University (GW) School of Medicine and Health Sciences in the role of chair for the Department of Pathology, she had no idea that in just a few months she and her team would be put to the test.
In March 2020, just five months after Sepulveda joined GW, Washington, D.C., grappled with the onset of the COVID-19 pandemic after the first case was diagnosed early in the month. Sepulveda and her team acted quickly to establish testing capabilities at GW.
Q: How did your team have to reorient for COVID? What did that look like?
Sepulveda: March 2020 was a month to remember as no other in my career. As the COVID-19 pandemic unleashed, it quickly became clear that we at the GW Hospital laboratory had to pivot and utilize our technical expertise in unprecedented ways. The laboratory team led by divisional director Olga Kochar and microbiology technologists Salome Mendoza and Maria Codoy started preparing for the validation of SARS-CoV-2 testing early in March. We had samples from positive and negative patients in the laboratory by the time RT-PCR [reverse transcription polymerase chain reaction] test kits arrived in our laboratory.  
The very first test we implemented in our laboratory was the rapid RT-PCR for SARS-CoV-2 from Cepheid that gives results in 45 minutes.
We validated that test and brought it live, with our whole lab team on site on Saturday, March 28. We completed our standard operating procedures paperwork and established the test results reporting process that same day. Usually it takes weeks or months to bring a test live. This was something we did over a weekend. The energy, commitment, and dedication of our team made it possible. We have since brought two additional viral tests in our lab, the CDC RT-PCR assay and the rapid Abbott ID NOW.
We have now done over 25,000 SARS-CoV-2 tests at the Clinical Laboratory Improvement Amendments-certified GW Hospital laboratory. The lab testing team has grown through cross-training and leveraging all our resources. The laboratory team that makes timely SARS-CoV-2 test results possible are heroes in the COVID-19 battle. They make test results available 24/7 as rapid as in a few minutes to a day. Our patients have received excellent and timely care and our health care workers have a safe work environment because of the extensive testing the laboratory is doing day in and day out. As medical director I cannot overemphasize how appreciative I am of our amazing group. Thank you, GW laboratory team!
Q: What challenges did your team have to overcome?
Sepulveda: Supply chain shortages for testing kits, reagents, and consumables has been and continues to be an enormous challenge for laboratories and we are not an exception. Shortage of test collection swabs and transport media has been a big one. The complex instruments used in our testing are also in short supply and we have had to work with alternatives. The allocation of test kits and other materials for testing has favored large commercial laboratories rather than academic hospital laboratories such as ours.
This is a struggle in the laboratory, which we continue to overcome through the extreme dedication of our team, deploying more hands-on testing approaches when needed to meet our testing goals to support excellence in patient care at the GW Hospital and testing for health care workers and communities in the District of Columbia.
It is not often pointed out, but laboratory workers have faced this pandemic at the workplace on a daily basis, dealing with long hours in PPE [personal protective equipment], right on the frontline with the inherent risks, as they directly handle known infectious samples. Again, I must thank my laboratory team.
Q: What has been the most unexpected characteristic of this virus?
Sepulveda: The presence of high positivity rates in asymptomatic individuals in the population as vehicles of transmission and viral spreading is something that has significantly complicated the containment of COVID-19. The fact that we have not been able to test everybody, and therefore we cannot identify many asymptomatic carriers, has been one of the most unique features of this pandemic and has clearly played a key role in its expansion in the population worldwide.
Q: Any updates on the state of antibody testing?
Sepulveda: I am happy to report that we have implemented antibody testing in our laboratory. We use one of the automated platforms which is an emergency use authorized test for total SARS-CoV-2 antibody testing. It is quite a sensitive and specific test when done several days after start of symptoms.
[Antibody tests] are useful to know if someone has been exposed to the virus. For example, some children mount an exaggerated immune response to the virus. They may be negative with the PCR test yet everything points to them having had an infection due to COVID-19 — in those cases it can be very helpful to run the antibody test. If it's positive, then it confirms the patient had exposure to the virus. Symptomatic patients who didn't have a chance to be tested for COVID-19 by PCR during the symptomatic phase can be tested for antibodies weeks later. In general, the antibody test is very useful for determining the prevalence of infection in the population.
Q: Do you see a change in testing as we head into the fall?
Sepulveda: I see increasing needs for testing. More testing is being requested for the screening of school populations, businesses, and various communities. Some schools have decided to go fully virtual for the fall, while others are still thinking about bringing students to their campuses, and those really want to have access to testing. Commercial laboratories may take many days to get test results out, which defeats the purpose. As we head into the fall, I am concerned with continued testing supply shortages, especially if we need to confront a second wave of infections.  
In our laboratory we've received many inquiries about providing SARS-CoV-2 testing and we will try to accommodate as much as we possibly can while managing the limitations faced due to supply chain issues. Every day, our guiding principle is to provide the right test at the right time for our patients and to help the community cope and win the battle against this terrible pandemic.