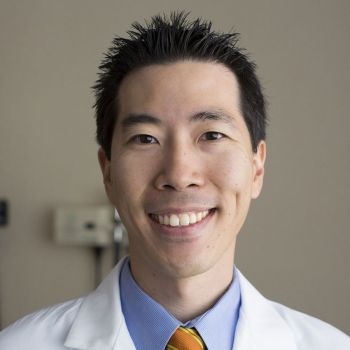 For millions of individuals at risk around the world, the ability to diagnose heart disease and deliver care has been severely impaired by the COVID-19 pandemic.  Andrew D. Choi, BA '03, MD '08, co-director of Cardiac CT and MRI and associate professor of medicine and radiology at the George Washington University School of Medicine and Health Sciences, has helped direct international efforts to address this gap through recent guidance statements in heart imaging.
In the first document, published by the Society of Cardiovascular Computed Tomography and endorsed by the American College of Cardiology, Choi served as co-chair alongside co-authors from Brigham and Women's Hospital, Massachusetts General Hospital, Stanford University, Innsbruck Medical University in Vienna, Austria, the University of Milan, Italy, and the University of Edinburgh, among others. The paper offers guidance for cardiac computed tomography (CCT) practitioners for optimal timing considerations to use the technology to improve cardiovascular health outcomes. 
The guidance looks at elective indications where scans can be safely deferred versus performed urgently.  In addition, it addresses steps to take if patients are under investigation for or confirmed to have COVID-19 and it is determined necessary for them to have a CCT scan. Choi and his co-authors recommend appropriate cleaning and decontamination of rooms, as well as careful and appropriate use of personal protective equipment. 
As the situation around COVID-19 continues to shift, the authors note that the information in the document is likely to evolve.  
Choi also helped author a second document, published by the editorial board of the Journal of the American College of Cardiology: Cardiovascular Imaging, of which Choi serves as an editor, in collaboration with the American College of Cardiology Imaging Leadership Council. The article discusses how cardiovascular professionals can enable a return to a "new normal" to deliver care for heart patients as the pandemic enters a deceleration phase in many parts of the world. The paper offers considerations for cardiovascular professionals in best practices in the broad range of diagnostic testing, including echocardiography (ultrasound), stress testing, computed tomography, and magnetic resonance imaging.  
"Imaging of the heart is crucial for health care professionals to enable the diagnosis, prevention, and long-term care of our patients at risk or with known heart disease," said Choi, who has been delivering care during the pandemic. "We outline approaches that enable collaborative, innovative, and adaptive care, while emphasizing important safety measures for patients and staff. Through this, we aim to support health care professionals in effectively caring for heart disease patients while abating the spread of virus."
The article, "Society of Cardiovascular Computed Tomography guidance for use of cardiac computed tomography amidst the COVID-19 pandemic Endorsed by the American College of Cardiology," can be found at Science Direct and the Society of Cardiovascular Computed Tomography.
Read "Multimodality cardiovascular imaging in the midst of the COVID-19 Pandemic: Ramping up Safely to a New Normal"