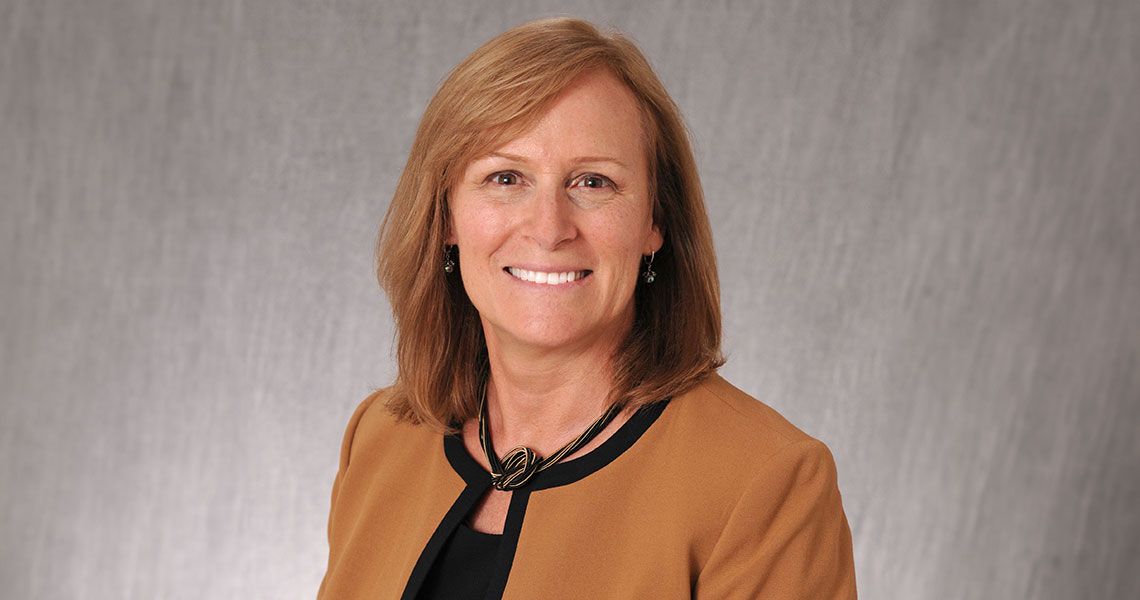 WASHINGTON (Oct. 9, 2023) – The GW School of Medicine and Health Sciences (SMHS) is pleased to announce that Alison Hall, PhD, has been appointed to serve as the Interim Senior Associate Dean for Research.
In the role of interim Senior Associate Dean for Research, Hall will have senior administrative oversight for the research missions of the GW academic medical enterprise including basic sciences, translational and clinical research, health services research and educational research. In partnership with department chairs and investigators, she will oversee the strategic advancement of research programs originating in all of the basic science, clinical, and health sciences departments of the GW SMHS/MFA academic medical enterprise. She will continue to serve as the lead for research workforce development, including the IBS PhD program, research pathways programs and postdoctoral training programs.
"Under Dr. Hall's leadership, we will expand our school's ability to achieve our research and clinical missions, fostering cross-cutting collaborations between faculty in all departments within our school, and across the wider university. She will play a vital role in enabling the school to foster the translation of research into clinical excellence," said Barbara Lee Bass, MD, Professor of Surgery, Walter A. Bloedorn Chair of Administrative Medicine, vice president for health affairs, dean of the SMHS, and CEO of the GW Medical Faculty Associates.
Hall will draw upon her decades of experience in research and national leadership, to leverage GW's strengths and help build programming in strategic areas of research. Previously, Dr. Hall led a highly productive and well-funded research program focused on neural development and the peripheral nervous system at Case Western Reserve University School of Medicine, where she also led and renewed several NIH research education and training programs. She was elected to the AAMC GREAT steering committee and served as president of the Association for Neuroscience Departments and Programs and is a graduate of the Executive Leadership in Academic Medicine program. Prior to joining GW, Hall was the deputy director of the Division of Training, Workforce Development and Diversity at the National Institute of General Medical Science where she led the overall assessments of the several programs to support students from underrepresented backgrounds to enter PhD programs and reported on MD "on-ramps" to research careers. Dr. Hall continues to serve on numerous NIH scientific review committees, and AAMC groups.
Hall has served in the role of associate dean for research workforce development in SMHS since 2017 and has had significant success in increasing the number of NIH training programs and individual fellowships and has established several pathway programs that have driven interest into the basic sciences at SMHS. She co-led the KL2 program that established a pathway and support for new clinician investigators. Additionally, serves as the associate center director for education and training within the GW Cancer Center, where Hall oversees all cancer education and training initiatives for students and trainees, clinical faculty, basic/population scientists, and health care providers in the catchment area of the GW Cancer Center.
"I look forward to helping to increase the visibility of the SMHS research enterprise and to coordinate new multi-PI and multidisciplinary programs among our outstanding investigators. This is an exciting time to be at SMHS and to work with our Chairs and research committees to continue our upward trajectory in research," said Hall.
By establishing and implementing new policies to assist in the promotion of research at SMHS, Hall plans to increase visibility in the SMHS research enterprise to fuel its growth and success. She will also supervise research activities related to SMHS; serve as a resource and advocate for SMHS faculty, and foster effective interaction among departments, the school, and the university.
Hall assumed the role of Interim Senior Associate Dean for Research on Oct. 1, 2023.
Robert Miller, PhD, who has served as the Senior Associate Dean for Research since 2014, assumed the role of Vice Dean in 2022. In this expanded leadership role, Miller serves as the primary academic administrative leader reporting directly to the Vice President for Health Affairs and Dean of the SMHS Barbara Bass, MD. As such, Miller has oversight of the academic affairs missions of all departments in the school, including the clinical departments based in the GW Medical Faculty Associates, as well as oversight of the chairs of the Health Sciences and Basic Sciences, who report to the Dean and VPHA. He also has direct oversight of the Office of Clinical Research, the Willed Body Donor Program, physical operations, and infrastructure support for all SMHS facilities and institutes within the SMHS, as well as any financial planning and operations for the academic enterprise. In partnership with the Senior Associate Dean for Research, Miller is also responsible for all compliance activities.
"Since being appointed as Vice Dean, Dr. Miller has taken on a wide array of responsibilities within the academic medical enterprise. I am grateful for his commitment to excellence and his dedication to our tripartite mission of education, research, and clinical care. I am confident we will continue to build upon our momentum with Dr. Miller in this position that expands his oversight and influence," said Bass.