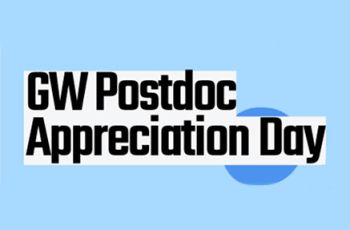 Where
Science & Engineering Hall
800 22nd Street NW
B1167, B1270
GW Postdoc Appreciation Day: Overview
Every year the National Postdoc Association selects a week in September to appreciate the great work done by Postdocs in the US. The GWPA then selects a day during this week to hold the GW Postdoc Appreciation Day. This year's event will take place on Monday, September 18, 2023 from 8:30 AM - 5:00 PM. Events include:
A keynote address
Five-minute research lightning talks
Professional development and careers talks
Lunch featuring round table topics
An Awards Ceremony and Reception
Sign up to give a 5-minute lightning talk for a chance to win $200
GWPA is proud to host 5-minute Research Lightning Talks where we showcase the excellent work done by postdocs at GW. Interested postdocs submit an abstract of 250 words or fewer in advance of Postdoc Appreciation Day. Postdocs whose abstracts are selected then give a 5-minute presentation. This is a great opportunity to let the GW community know the great work you do and maybe set up new collaborations. This year, talks will be evaluated and scored by your fellow postdocs and faculty in attendance. Presentations with the top scores will be awarded prizes of $200 each!
Submit your abstract by 5pm September 8!