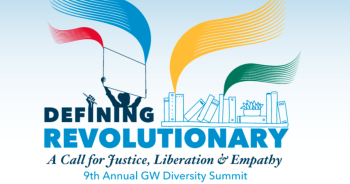 Where
Jack Morton Auditorium
805 21st St NW, Washington, DC 20052
The George Washington University community is invited to attend the Fall 2023 component of the 9th Annual Diversity Summit, Defining Revolutionary: A Call for Justice, Liberation, and Empathy.
The theme of the three-day event challenges us to turn inward to define ourselves together as GW, in space that allows for both a pouring into our community and sharing out from our community in accordance with our intended learning goals.
Opening Keynote | Oct. 25 | A Response to Today's Threats Against Diversity, Equity, and Inclusion, featuring Jeremy Young, PhD, from PEN America.